Clever Jeff
"God Quality"
"Its not religious, just delicious. Classy and soulful music for the original hip-hop generation."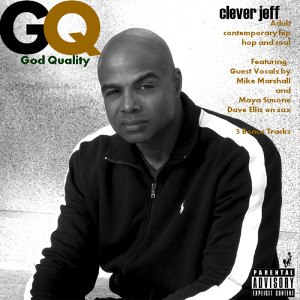 Clever Jeff's "God Quality" album is a fusion of jazz, hip-hop and soul that both entertains and heals the soul. Featuring tracks with guests vocalists Mike Marshall and Maya Simone, the release includes fourteen main tracks and three bonus tracks. Many of the songs include live saxophone and vocals as well as rapping, or better termed, "rhythmatic poetry". Subject matter ranges from the socially conscious, to relationships and romance, to just fun braggadocious hip-hop. All songs were written, arranged and performed by Clever Jeff as both emcee and vocalist. The goal for this project is to bring back the kind of socially conscious hip-hop that we all fell in love with in the 80's and 90's.
In 1993 Clever Jeff caught the attention of Quincy Jones who signed him to his Reprise/Warner Brothers imprint, Qwest Records. 1994′s "Jazz Hop Soul" on Qwest/Reprise, spawned several regional hits and much critical acclaim. Clever has continued to make timeless music over the past two decades releasing "Street Therapy" and "God Quality" under his own label. Clever is known as a west coast rapper with an east coast sound.
This album has already received a lot of play on the internet radio stations and is showing promising sales in both the US and the UK. This is well-rounded, honest music with a message that still moves the feet with hip-hop beats and jazzy undertones. The songs with vocal hooks are soulful and melodic.
For more information, promo requests or to set up an interview please contact:
Jeff Jones
Email: info@cleverjeff.com
Website: http://cleverjeff.com
Listen: https://soundcloud.com/cleverjeff/sets/clever-jeff-gq-album-sampler